ON-LINE UPS with PFC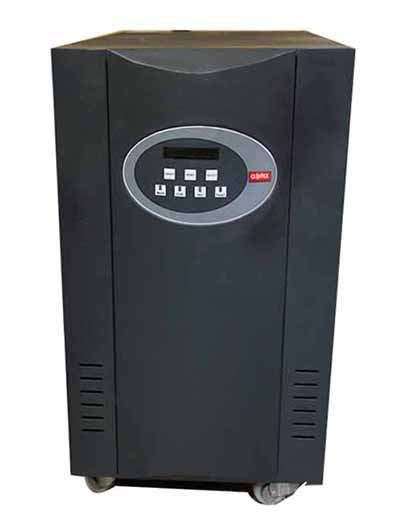 Alpha Online UPS are aesthetically built compact units with state of the art technology. The systems are designed to withstand harsh Indian power & environmental conditions, & are specially configured for mission critical business & industrial applications. No wonder, Alpha Online UPS are preferred by government & non-governmental organisations, locals, regional, national & multinational companies.
Trusty's double conversion circuitry detects the current and voltage output of utility power supply. It also attains high input power factor over 95%.
With the use of outstanding IGBT as the power conversation component, the operating frequency of the inverter can reach tens of KHz. Moreover, the higher working efficiency of the inverter also improves the overall efficiency of the UPS and higher inversion frequency reduces the noise of the inverter as well.
Features
Galvanic isolation transformer: protects your load from input surge, spike, and fluctuations.
Isolates load from power problems
Active power factor correction (PFC) system saves up to 25% in electricity bills
High quality components
Lasts long with minimal maintenance
Double conversion technology
IS0 9001 Certified company
LCD Display with all parameters
Certified by all Test labs
IGBT Based Technology for more efficiency
With all protections
Applications
Computer systems: servers & workstations
Telecommunication, Networking & Broadcasting equipment
Entertainment, surveillance & security systems
Aerospace, Defence, Medical, Printing, & Research equipment
Industrial process control & Automation systems